There are three things you can do this Holiday Season to be a survivor when driving.
Here's why extra caution is necessary this year...
The 2015 traffic fatality estimate for the US is up a shocking 8.1 percent higher from the same period last year, and the fatality rate rose by 4.4 percent. Traffic deaths in the U.S. have increased every month for the first six months of 2015 as compared with the same months in 2014. In Washington state, there were 23 percent more deaths (191 to 235) in 2015 than 2013, and In Idaho, there were 4 percent more deaths (81 to 84) in the same period.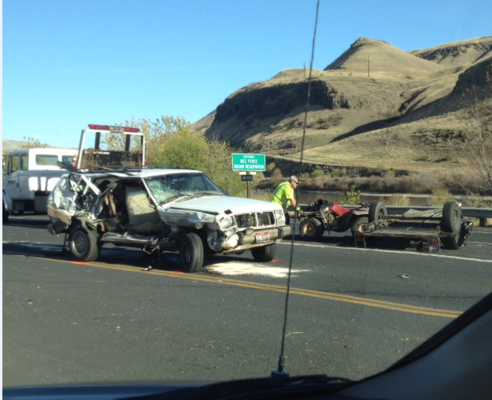 Why the spike in traffic deaths?
While final 2015 numbers and a breakdown of factors in the year's fatalities will not be available until next year, NHTSA experts noted that job growth and low fuel prices could be a factor, not only in increased driving overall, but in increased leisure driving and driving by young people, which can contribute to higher fatality rates.
Drunk driving, no seat belts and distracted driving play major roles in traffic fatalities.
Other trends remained stubbornly constant. Deaths in drunk driving crashes continue to represent roughly one-third of fatalities; approximately half of all vehicle occupants killed were not wearing seat belts; deaths of motorcyclists without helmets remained far higher in states without strong helmet laws; and speeding was a factor in more than one in four deaths. NHTSA research shows that in an estimated 94 percent of crashes, the critical cause is a human factor. In contrast, vehicle-related factors are the critical reason in about 2 percent of crashes.

Drive sober, wear seat belts, focus on driving - additional 2014 crash data shows:
Drunk driving crashes continue to represent roughly one-third of fatalities, resulting in 9,967 deaths in 2014.
No seat belts were worn by nearly half (49%) of passenger vehicle occupants killed in accidents.
Distracted driving accounted for 10 percent of all crash fatalities, killing 3,179 people in 2014.
Pedestrian deaths rose by 3.1 percent from the previous year with 4,884 pedestrians killed in motor vehicle crashes.
Motorcyclists killed were far higher in states without strong helmet laws, resulting in 1,565 lives lost in 2014.
Drowsy driving accounted for 2.6 percent of all crash fatalities; at least 846 people died in these crashes in 2014.
NHTSA experts cautioned that while partial-year estimates are more volatile and subject to revision, the estimated increase represents a troubling departure from a general downward trend. The fatality rate actually fell to a record-low of 1.07 deaths per 100 million vehicle miles traveled in 2014, but estimates for the first six months of 2015 show a spike in the number of fatalities.

Source: National Highway Traffic Safety Administration (NHTSA), News Release – Nov 24, 2015