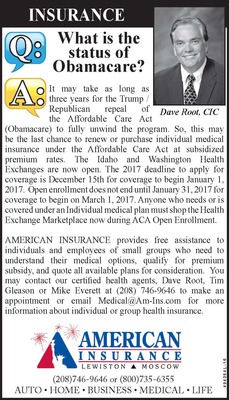 We printed this Q&A column in the Dec. 10, 2017 edition of The Lewiston Tribune.
A: It may take as long as three years for the Trump / Republican repeal of the Affordable Care Act (Obamacare) to fully unwind the program. So, this may be the last chance to renew or purchase individual medical insurance under the Affordable Care Act at subsidized premium rates. The Idaho and Washington Health Exchanges are now open. The 2017 deadline to apply for coverage is December 15th for coverage to begin January 1, 2017. Open enrollment does not end until January 31, 2017 for coverage to begin on March 1, 2017. Anyone who needs or is covered under an Individual medical plan must shop the Health Exchange Marketplace now during ACA Open Enrollment.
AMERICAN INSURANCE provides free assistance to individuals and employees of small groups who need to understand their medical options, qualify for premium subsidy, and quote all available plans for consideration. You may contact our certified health agents, Dave Root, Tim Gleason or Mike Everett at (208) 746-9646 or request an appointment online here or email "Medical@Am-Ins.com" <mailto:Medical [at] Am-Ins [dot] com> for more information about individual or group health insurance.
You can find more of our Q&A columns published in the Tribune here.