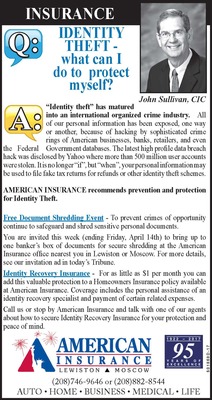 We published this column in the April 10, 2017 edition of The Lewiston Tribune.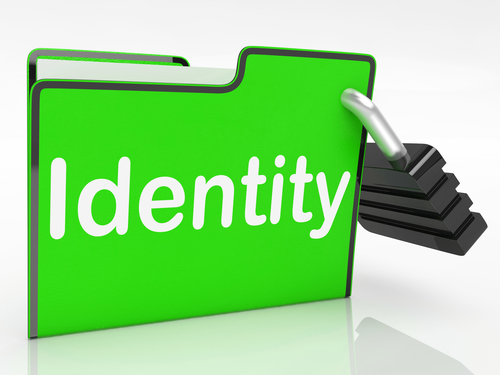 A: "Identity theft" has matured into an international organized crime industry. All of our personal information has been exposed, one way or another, because of hacking by sophisticated crime rings of American businesses, banks, retailers, and even the Federal Government databases. The latest high profile data breach hack was disclosed by Yahoo where more than 500 million user accounts were stolen. It is no longer "if", but "when", your personal information may be used to file fake tax returns for refunds or other identity theft schemes.
AMERICAN INSURANCE recommends prevention and protection for Identity Theft.
Free Document Shredding Event - To prevent crimes of opportunity continue to safeguard and shred sensitive personal documents. You are invited this week (ending Friday, April 14) to bring up to one banker's box of documents for secure shredding at the American Insurance office nearest you in Lewiston or Moscow. For more details, see our invitation ad in today's Tribune or read more here.
Identity Recovery Insurance - For as little as $1 per month you can add this valuable protection to a Homeowners Insurance policy available at American Insurance. Coverage includes the personal assistance of an identity recovery specialist and payment of certain related expenses. Read more about that here.
Call us at (208) 746-9646 or contact us online or stop by our American Insurance office and talk with one of our agents about how to secure Identity Recovery Insurance for your protection and peace of mind.
Read more of our Q&A columns published in the Tribune here.