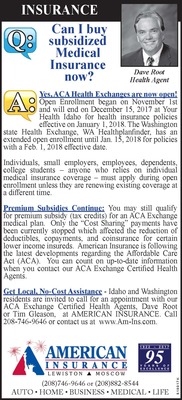 We printed this Q&A column in the Nov. 10, 2017 edition of The Lewiston Tribune.
Q: Can I buy subsidized Medical Insurance now?
A: Yes, ACA Health Exchanges are now open! Open Enrollment began on Nov. 1st and will end on Dec. 15, 2017 at Your Health Idaho for health insurance policies effective on Jan. 1, 2018. The Washington state Health Exchange, WA Healthplanfinder, has an extended open enrollment until Jan. 15, 2018 for policies with a Feb. 1, 2018 effective date.
Individuals, small employers, employees, dependents, college students – anyone who relies on individual medical insurance coverage – must apply during open enrollment unless they are renewing existing coverage at a different time.
Premium Subsidies Continue
You may still qualify for premium subsidy (tax credits) for an ACA Exchange medical plan. Only the "Cost Sharing" payments have been currently stopped which affected the reduction of deductibles, copayments, and coinsurance for certain lower income insureds. American Insurance is following the latest developments regarding the Affordable Care Act (ACA). You can count on up-to-date information when you contact our ACA Exchange Certified Health Agents.
Get Local, No-Cost Assistance
Idaho and Washington residents are invited to call for an appointment with our ACA Exchange Certified Health Agents, Dave Root or Tim Gleason, at AMERICAN INSURANCE. Contact us at 208-746-9646 or at Medical [at] Am-ins [dot] com.