We printed this Q&A column in the April 10, 2018 edition of The Lewiston Tribune.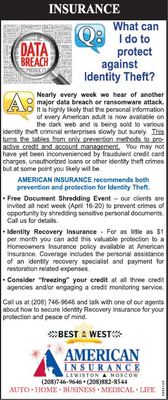 Q. What can I do to protect against Identity theft?
A. Nearly every week we hear of another major data breach or ransomware attack. It is highly likely that the personal information of every American adult is now available on the dark web and is being sold to various identity theft criminal enterprises slowly but surely. This turns the tables from only prevention methods to pro-active credit and account management.

You may not have yet been inconvenienced by fraudulent credit card charges, unauthorized loans or other identity theft crimes but at some point you likely will be.
AMERICAN INSURANCE recommends both prevention and protection for Identity Theft.
Free Document Shredding Event – Our clients are invited all next week (April 16-20) to prevent crimes of opportunity by shredding sensitive personal documents. Call us for details.
Identity Recovery Insurance – For as little as $1 per month you can add this valuable protection to a Homeowners Insurance policy available at American Insurance. Coverage includes the personal assistance of an identity recovery specialist and payment for restoration related expenses.
Consider "freezing" your credit at all three credit agencies and/or engaging a credit monitoring service.
Contact us and talk with one of our agents about how to secure Identity Recovery Insurance for your protection and peace of mind.