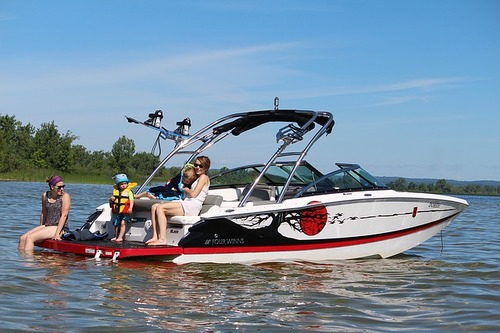 Whether you take to the lake for water sports, drift down the river casting your reel or sail the ocean blue, being on the water floats your boat. Your watercraft and its engine(s), your trailer and other equipment – it all represents a sizeable investment that's important to protect by selecting the right insurance coverage.
Here are eight questions about watercraft insurance to ask your American Insurance agent to help ensure smooth sailing in case something goes amiss with your boating adventures.
Agreed value or actual cash value? This may be the most important distinction you'll see as you consider your insurance options. Under agreed value, your insurer, in the case of a total loss, will cover the total value you agreed upon when you insured your vessel. Cash value, on the other hand, takes into account depreciation, and the effects of wear and tear over time to help determine a total loss payout.
What about standard coverages? Liability insurance for your boat helps cover medical care and property costs for other boaters and boat owners if you are at fault for an accident on the water. You might also consider medical payments coverage that includes you and your passengers regardless of who is at fault, and uninsured/underinsured coverage, which helps pay for medical treatment, lost wages, and other costs if you are hit by an uninsured or underinsured boater. Be sure you have protection against financial loss if your boat is stolen, on or off the water.
Can I get a discount for using my current insurer? Insurance carriers often reward customers for insuring multiple assets with them. If you already have a home and auto policy with one carrier, adding a boat policy may earn you a discount.
What other discounts are available? One of the most commonly offered discounts, and one of the most worthwhile in its own right, offers savings for completing an approved safe boating course. Another potential discount is for vessels powered by diesel engines. They're considered less hazardous than gasoline engines.
What's my coastline coverage? Your watercraft policy may include restrictions on open ocean boating, such as limiting your coverage area to within 75 miles of the U.S. and Canadian coasts. If an incident occurs outside your coverage area, your policy will not assist you. If needed, you may be able to purchase additional coverage from your American Insurance agent.

Can I get emergency assistance, on and off the water? Roadside assistance should cover your vessel, its trailer and the vehicle you use to tow it. Some policies also offer emergency assistance that covers towing if your vessel becomes disabled on the water, as well as delivery of fuel, oil, or a battery. More often than not, this coverage is an option you need to specifically add to your policy for assistance in a pinch.
How can I protect my gear? There are several levels of protection you can look for: personal effects coverage for personal property such as fishing gear; unattached equipment coverage for such items as water skis and deck chairs; and physical damage coverage that could encompass personal effects, unattached equipment and more. It's important to know how much all of your equipment is worth so you can purchase enough coverage.

Who pays for cleanup if the worst happens? If your boat sinks or is badly damaged, you could be liable for a costly cleanup process. Some policies will cover the cost of spilled fuel and wreckage removal, and the cost of raising a sunken or sinking vessel, according to the actual policy limits.
Your American Insurance agent can address these and any other boat insurance questions you may have. The more questions you ask, the better you can understand your watercraft insurance policy. Whether you're spending a summer day on a crowded lake, exploring unknown waters on the open sea, or towing your prized vessel on the Interstate, you never know when the unexpected may occur.
Source: Safeco blog post, Questions to ask before you buy boat insurance