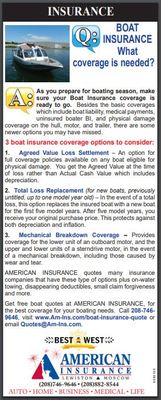 We printed this Q&A column in the May 10, 2018 edition of The Lewiston Tribune.

Q. BOAT INSURANCE - What coverage is needed?
A: As you prepare for boating season, make sure your Boat Insurance coverage is ready to go. Besides the basic coverages which include boat liability, medical payments, uninsured boater BI, and physical damage coverage on the hull, motor, and trailer, there are some newer options you may have missed.

3 boat insurance coverage options to consider:
Agreed Value Loss Settlement – An option for full coverage policies available on any boat eligible for physical damage. You get the Agreed Value at the time of loss rather than Actual Cash Value which includes depreciation.
Total Loss Replacement (for new boats, previously untitled, up to one model year old) – In the event of a total loss, this option replaces the insured boat with a new boat for the first five model years. After five model years, you receive your original purchase price. This protects against both depreciation and inflation.
Mechanical Breakdown Coverage – Provides coverage for the lower unit of an outboard motor, and the upper and lower units of a sterndrive motor, in the event of a mechanical breakdown, including those caused by wear and tear.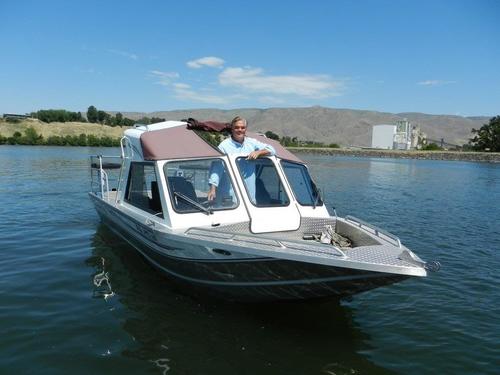 AMERICAN INSURANCE quotes many insurance companies that have these type of options plus on-water towing, disappearing deductibles, small claim forgiveness and more.

Get free boat quotes at AMERICAN INSURANCE, for the best coverage for your boating needs. Call 208-746-9646, visit our Boat Quote Request page here or email Quotes [at] Am-Ins [dot] com.