We printed this Q&A column in the April 10, 2019 edition of The Lewiston Tribune.

A: Yes, unfortunately Identity Theft is one of the most common outcomes following business data breaches. One study said that more than 1,200 data breaches were reported with over 400 million consumer records exposed in 2018 alone.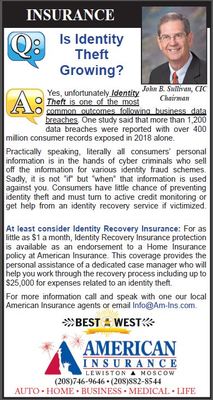 Practically speaking, literally all consumers' personal information is the hands of cyber criminals who sell off the information for various identity fraud schemes. Sadly, it is not "if" but "when" that information is used against you. Consumers have little chance of preventing identity theft and must turn to active credit monitoring or get help from an identity recovery service if victimized.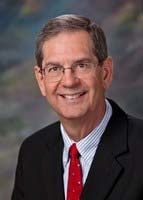 John B. Sullivan, CIC
Chairman
At least consider Identity Recovery Insurance: For as little as $1 a month, Identity Recovery Insurance protection is available as an endorsement to a Home Insurance policy at American Insurance. This coverage provides the personal assistance of a dedicated case manager who will help you work through the recovery process including up to $25,000 for expenses related to an identity theft.
For more information call and speak with one our local American Insurance agents or email Info [at] Am-Ins [dot] com.

Free Document Shredding Event – Our clients are invited all next week (April 15-19) to prevent crimes of opportunity by shredding sensitive personal documents. Call us for details.
Identity Recovery Insurance – For as little as $1 per month you can add this valuable protection to a Homeowners Insurance policy available at American Insurance. Coverage includes the personal assistance of an identity recovery specialist and payment for restoration related expenses.
More articles related to…