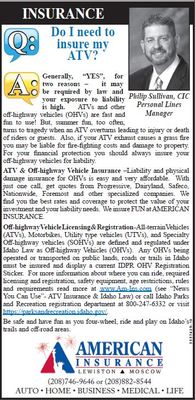 We printed this Q&A column in the May 10, 2019 edition of The Lewiston Tribune.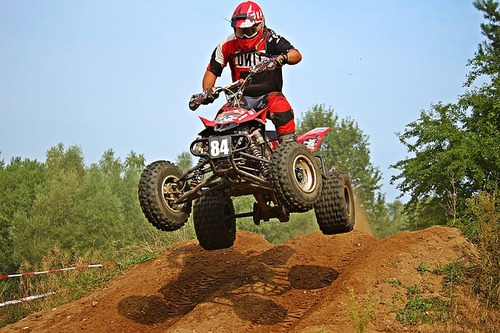 A: Generally, "YES", for two reasons – it may be required by law and your exposure to liability is high. ATVs and other off-highway vehicles (OHVs) are fast and fun to use! But, summer fun, too often, turns to tragedy when an ATV overturns leading to injury or death of riders or guests. Also, if your ATV exhaust causes a grass fire you may be liable for fire-fighting costs and damage to property. For your financial protection you should always insure your off-highway vehicles for liability.
ATV & Off-highway Vehicle Insurance – Liability and physical damage insurance for OHVs is easy and very affordable. With just one call, get quotes from Progressive, Dairyland, Safeco, Nationwide, Foremost and other specialized companies. We find you the best rates and coverage to protect the value of your investment and your liability needs. We insure FUN at AMERICAN INSURANCE.
Off-highway Vehicle Licensing & Registration – All-terrain Vehicles (ATVs), Motorbikes, Utility type vehicles (UTVs), and Specialty Off-highway vehicles (SOHVs) are defined and regulated under Idaho Law as Off-highway Vehicles (OHVs). Any OHVs being operated or transported on public lands, roads or trails in Idaho must be insured and display a current IDPR OHV Registration Sticker. For more information about where you can ride, required licensing and registration, safety equipment, age restrictions, rules and requirements read more at www.Am-Ins.com (see "News You Can Use"- ATV Insurance & Idaho Law) or call Idaho Parks and Recreation registration department at 800-247-6332 or visit https://parksandrecreation.idaho.gov/.
Be safe and have fun as you four-wheel, ride and play on Idaho's trails and off-road areas.
More articles related to…