We printed this Q&A column in the June 10, 2019 edition of The Lewiston Tribune.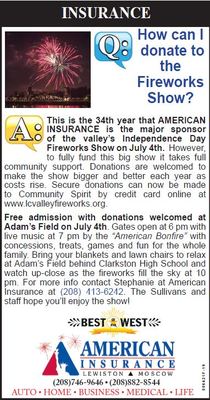 Q: How can I donate to the fireworks show?

A: This is the 34th year that AMERICAN INSURANCE is the major sponsor of the valley's Independence Day Fireworks Show on July 4th. However, to fully fund this big show it takes full community support. Donations are welcomed to make the show bigger and better each year as costs rise. Secure donations can now be made to Community Spirit by credit card online at www.lcvalleyfireworks.org.
Free admission with donations welcomed at Adam's Field on July 4. Gates open at 6 pm with live music at 7 pm by the "American Bonfire" with concessions, treats, games and fun for the whole family. Bring your blankets and lawn chairs to relax at Adam's Field behind Clarkston High School and watch up-close as the fireworks fill the sky at 10 pm.
For more info contact "Stephanie at American Insurance" <stephh [at] am-ins [dot] com> at (208) 413-6242. The Sullivans and staff hope you'll enjoy the show!