Uninsured vehicle compliance begins January 1, 2020
Starting January 1, 2020, vehicle owners without auto insurance coverage for two consecutive months will receive a warning and be given 30 days to provide proof of insurance or obtain an exemption before their vehicle registration is suspended. In an effort lower the amount of uninsured vehicles on Idaho roads and to enforce the mandatory auto liability Insurance law, the Idaho DMV, under Idaho Code 49-1234, will begin using an online insurance verification system to ensure vehicle owners have current insurance coverage at all times. Vehicle owners without insurance will have their vehicle registration suspended. There are a lot of circumstances that may require you to communicate with the ID DOT to avoid a vehicle registration suspension.
Here is what you need to know.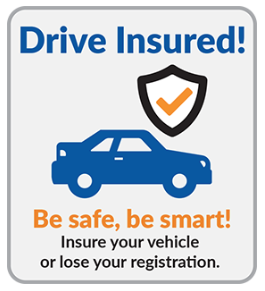 Who is affected?
Anyone who owns a vehicle that is registered in Idaho, except: Commercial vehicles (Idaho Code 49-434) and vehicles that are not required to provide proof of insurance are excluded (ie. golf carts, implements of husbandry.)
What vehicles are exempt from this law?
Vehicles registered to a commercial business or covered under a business type auto liability policy that covers all vehicles.
Registered vehicles that have been sold (or are in the process of being sold), or moved out of state, but have not had the associated registration cancelled.
Which situations qualify for an exception?
Individuals who seasonally garage their vehicles or snowbirds that are still registered but cancel insurance while not operating the vehicle. Non-Use Form (ITD3119) will need to be completed and returned to ITD.
Insurance not reported to the insurance verification system (example: out-of-state insurance company)
Indemnity bond [Idaho Code 49-1229(2)]
Self-insurance (Idaho Code 49-1224)
Visit the Idaho Transportation Department website, then scroll down to the "Insurance" tab. Here you will find links to Frequently Asked Questions and the following Exemption Forms.
Insurance Exception Form – Documentation to be submitted when insurance vendor does not report to the Idaho insurance verification system, for self-insured vehicles, and other situations. Along with the form, you must provide proof of liability insurance or other documentation to verify the existence of insurance or proof of financial responsibility.
Vehicle Non-Use Form – Documentation to be submitted if vehicle is not currently in use.
Release of Liability Form – Documentation to be submitted when you no longer own a vehicle.
If you need help or guidance regarding your vehicle that is placed in seasonal layup or other special circumstance please contact us and talk with an American Insurance Customer Service Agent.
Source: Idaho Department of Transportation website