We printed this Q&A column in the Jan. 10, 2020 edition of The Lewiston Tribune.
Q: Is life insurance expensive?
A: The answer is "NO"! The fact is, term life insurance is very affordable and inexpensive, but sadly most people don't have enough coverage. For example, a healthy, preferred risk 30 year old male, who is a non-tobacco user, can buy $500,000 face amount of a 10-year level term life insurance policy for only about $15 per month in premium.
I get this question a lot at the start of a new year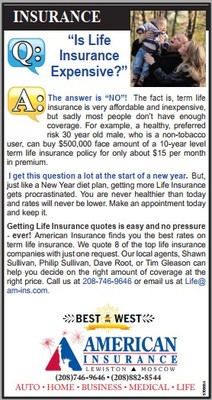 . But, just like a New Year diet plan, getting more Life Insurance gets procrastinated. You are never healthier than today and rates will never be lower. Make an appointment today and keep it.
Getting Life Insurance quotes is easy and no pressure - ever! American Insurance finds you the best rates on term life insurance. We quote 8 of the top life insurance companies with just one request.
Our local agents, Shawn Sullivan, Philip Sullivan, Dave Root, Tim Gleason, or Jeremy VanHouten can help you decide on the right amount of coverage at the right price. Call us at 208-746-9646 or email us at Life [at] am-ins [dot] com or request an appointment online or you can text us for an appointment at 208-518-0823!