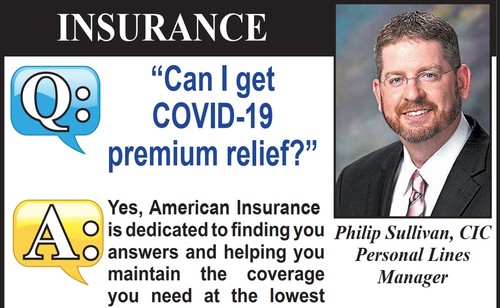 We printed this Q&A column in the April 10, 2020 edition of The Lewiston Tribune.
Q: Can I get COVID-19 premium relief?
A: Yes, American Insurance is dedicated to finding you answers and helping you maintain the coverage you need at the lowest rates you can afford. New and creative ideas are coming out of the Insurance industry on how to help everyone manage through the financial impact of the COVID-19 health crisis.
Premium refunds – Safeco Insurance and other insurance companies have just announced a voluntary plan to refund 15% of the annual personal auto insurance premiums paid by policyholders representing about two months of premium.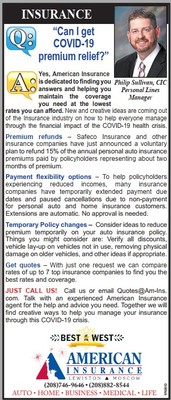 Payment flexibility options – To help policyholders experiencing reduced incomes, many insurance companies have temporarily extended payment due dates and paused cancellations due to non-payment for personal auto and home insurance customers. Extensions are automatic. No approval is needed.
Temporary Policy changes – Consider ideas to reduce premium temporarily on your auto insurance policy. Things you might consider are: Verify all discounts, vehicle lay-up on vehicles not in use, removing physical damage on older vehicles, and other ideas if appropriate.
Get quotes – With just one request we can compare rates of up to 7 top insurance companies to find you the best rates and coverage.

JUST CALL US! Call us or email Quotes [at] Am-Ins [dot] com. Talk with an experienced American Insurance agent for the help and advice you need. Together we will find creative ways to help you manage your insurance through this COVID-19 crisis.