We printed this Q&A column in the May 10, 2020 edition of The Lewiston Tribune.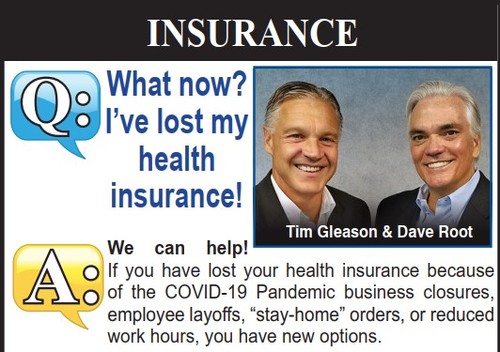 Q: What now? I've lost my health insurance!
A: We can help! If you have lost your health insurance because of the COVID-19 Pandemic business closures, employee layoffs, "stay-home" orders, or reduced work hours, you have new options.
Special Enrollment Period – you are eligible to apply for individual health plans through your State Health Exchange. You may qualify for lower premiums through premium tax credits or cost-sharing reductions.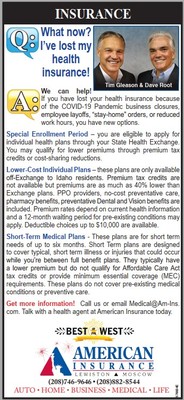 Lower-Cost Individual Plans – these plans are only available off-Exchange to Idaho residents. Premium tax credits are not available but premiums are as much as 40% lower than Exchange plans. PPO providers, no-cost preventative care, pharmacy benefits, preventative Dental and Vision benefits are included. Premium rates depend on current health information and a 12-month waiting period for pre-existing conditions may apply. Deductible choices up to $10,000 are available.
Short-Term Medical Plans - These plans are for short term needs of up to six months. Short Term PPO is designed to cover typical, short term illness or injuries that could occur while you're between full benefit plans. They typically have a lower premium but do not qualify for Affordable Care Act tax credits or provide minimum essential coverage (MEC) requirements. These plans do not cover pre-existing medical conditions or preventive care.
Get more information! Call us or email Medical [at] Am-Ins [dot] com. Talk with a health agent at American Insurance today.