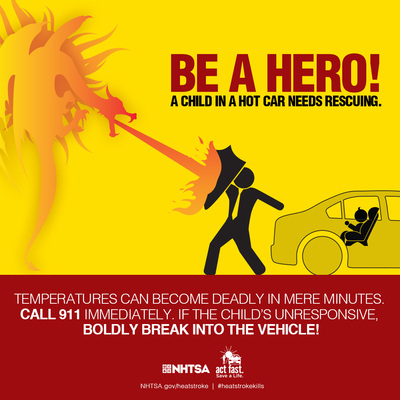 In the span of 10 minutes, a car can heat up by 20 degrees, enough to kill a child left alone in the vehicle. The U.S. Department of Transportation, the National Highway Traffic Safety Administration (NHTSA), and other safety advocates and academic institutions have recognized the safety threat heatstroke poses for children left unattended in hot cars.
So, what should YOU do if you see a child alone in a car?
TAKE IMMEDIATE ACTION!
That's the advice of the NHTSA. They recommend you not worry about getting involved in someone else's business — protecting children is everyone's business; besides, "Good Samaritan" laws offer legal protection for those who offer assistance in an emergency.
Here's What You Can Do:
Always make sure the child is okay and responsive. If not, call 911 immediately.
If the child appears to be okay, attempt to locate the parents or have the facility's security or management page the car owner over the PA system.
If the child is not responsive and appears to be in distress, attempt to get into the car to assist the child—even if that means breaking a window—many states have "Good Samaritan" laws that protect people from lawsuits for getting involved to help a person in an emergency.
Warning Signs of Heatstroke
Red, hot, and moist or dry skin
No sweating
Strong, rapid pulse or slow, weak pulse
Nausea
Confusion or strange behavior
Did you know that heatstroke is the leading cause of non-crash-related deaths for children under 14? A child dies when their body temperature reaches 107 degrees.

Heatstroke is the leading cause of vehicular not-in-traffic non-crash-related deaths for children under 14. In fact, each year, an average of 38 children have died from heatstroke since 1998.
Sadly, these are the current statistics:
Child vehicular heatstroke fatalities in 2018 = 52
Child vehicular heatstroke fatalities in 2017 = 43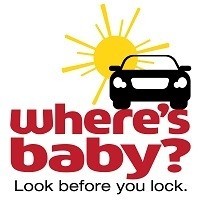 Tips for Parents & Caregivers
Is dropping off a child not part of your normal routine? Come up with some ways to remind yourself that the child is in the car.

Place a briefcase, purse, or cell phone next to the child's car seat so that you'll always check the back seat before leaving the car.
Call your spouse or another caregiver to confirm you've dropped your child off.
Have your child care provider call you if your child doesn't arrive.
Write a note and place it on the dashboard of your car, or set a reminder on your cell phone or calendar.
See also 2019 Heatstroke Fact Sheet or the Heatstroke Prevention Tips for Parents & Caregivers flyer

Source: NHTSA National Child Heatstroke Prevention Campaign