From April 10 to 15, 2015, law enforcement personnel will be using a combination of traditional and innovative strategies to crack down on motorists who text while driving. This effort is a part of the national U Drive. U Text. U Pay high-visibility enforcement campaign that combines intense enforcement of anti-texting laws with advertising and media outreach to let people know about the enforcement and convince them to obey the law.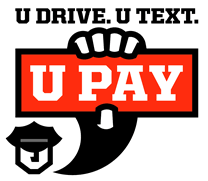 The U Drive. U Text. U Pay campaign is national in scope, and has received approximately $8.4 million in grant funding from the U.S. DOT to support this and other efforts designed to fight distracted driving.
State Laws Banning Texting and Driving:
As of January 2015, 44 States, DC, Puerto Rico, Guam and the U.S. Virgin Islands ban text messaging for all drivers. All but 5 have primary enforcement.
An additional 4 States (MO, MS, OK, TX) prohibit text messaging by novice drivers.
Three States (MS, OK, TX) restrict school bus drivers from texting.
According to the latest data from NHTSA, nationwide in 2013, 3,154 people were killed and an estimated additional 424,000 were injured in motor vehicle crashes involv­ing distracted drivers. This represents a 6.7 percent decrease in the number of fatalities recorded in 2012.
Distracted driving is any activity that diverts a person's attention away from the primary task of driving. All distractions endanger driver, passenger, and bystander safety.