If you celebrate Independence Day with your own fireworks show, you will be personally liable if anything goes wrong. So, here is some information about how to cover your liability plus safety tips to keep your show safe for everyone concerned. Whether "Safe & Sane" or fired by professionals, fireworks must be handled with care.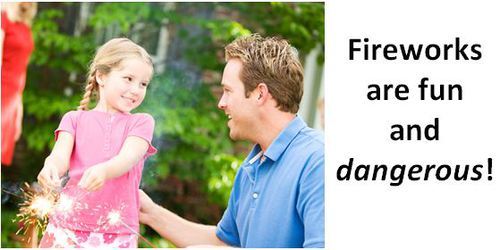 Not all fireworks are legal so check your local restrictions (read fireworks restrictions in Lewiston, ID.). In Lewiston, ID, any fireworks "that go up or blow up" are illegal. And, in Clarkston, WA, approved consumer fireworks may be discharged within the City of Clarkston only on July 3 between the hours of 9 a.m. and 11 p.m. and on July 4 between the hours of 9 a.m. and 12 a.m. (midnight), and between the hours of 6 p.m. on Dec. 31 and 1 a.m. on Jan. 1. Consumer fireworks may not be discharged within the City of Clarkston at any other time.

Family fun can turn into tragedy in a flash. Each year more than 8,000 people are injured by fireworks and more fires are reported on the 4th of July than on any other day.

Any incident of injury or property damage creates serious liability issues for adults and parents of children. If you have a Homeowners or Tenants (renters) insurance policy, it will provide you coverage under the Personal Liability section in case of an accident.

Even so, you will want to remind yourself of some basic fireworks safety tips, including:
A

lways have water handy (a hose or buckets of water).
Light fireworks outdoors in a clear area.
Never allow young children to handle fireworks.
Older children should use fireworks only under close adult supervision.
The shooter should wear safety glasses.
Light one device at a time.
Never ignite devices in a container.
You may want to consider increasing your Homeowners Personal Liability limit to $500,000. The cost is usually less than $20 per year.
Do you have more questions or now want to get a quote to increase your liability coverage? Contact us online here or email "American@am-ins.com" <mailto:American [at] am-ins [dot] com> or call us at (208) 746-9646 today!

More related articles: