Everyone can shop at grocers to support event

As the food drive has grown each year, John Sullivan, Agency CEO, has found new ways to help support a variety of hometown businesses through this event. For example, he has helped the the Agents gather 708 lbs. of donations the first year to 9.542 lbs. in 2020.
In addition, for 2020 and again in 2021, we've added several hometown business grocers who are supporting the event. For this year, our partner hometown grocers are: in Lewiston at A&B Foods on 8th Street and on Thain St.; at Grocery Outlet on Thain St.; in Clarkston at Rick's Family Foods on Highland; and in Moscow at the Moscow Food Co-Op.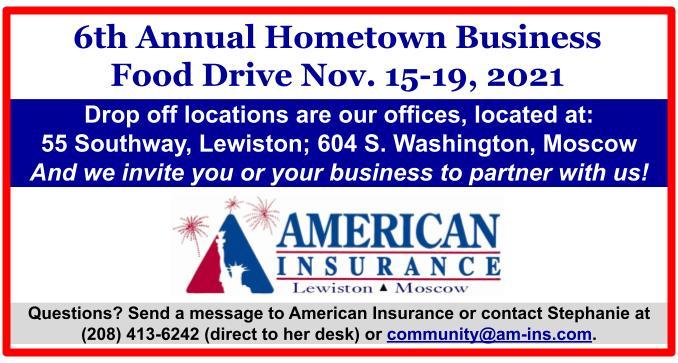 John said he wanted to support other local businesses that work in the food industry.
"I know many food industry businesses are located in our valley and I wanted to let grocers offer their support for our community by letting them provide discounted items pre-bagged for convenient pickup by businesses owners and employees alike."
He added that helping residents find ways to shop in locally owned grocery businesses helps our communities as well.
"We can help support those businesses who can also offer discounted items to support our local Food Banks," he explained.
Food Banks supported through local efforts are the Community Action Partnership Food Bank in Lewiston; the Asotin County Food Bank in Clarkston; and Palouse Cares in Moscow. Each business's donations in their city will go to their local agency.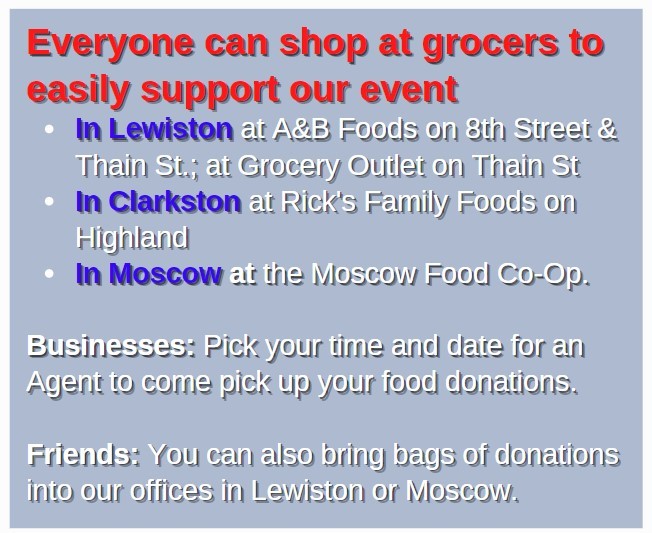 Director Joanne Huntley at the Asotin County Bank said they've seen fewer clients so far but expect to see increased needs as the holidays get closer.
"We don't even know what causes an uptick in clients sometimes, but it happens," she said. "We appreciate you guys doing this for us."
Director Steve Smalls at the Community Action Partnership Food Bank said they could use more quick canned fruits and quick meal items such as canned soups, canned tomato products, ravioli and beef stew options, and ramen donations.
He said their levels of clients are now returning to pre COVID levels, and he anticipates a dramatic increase in need going forward.
What items should I buy?
Bring in your donations to your office or business and we will collect them for the Hometown Business Food Drive. Needed local items are:
Holiday food items (cranberry sauces, pie fillings & dough, stuffing, meats, etc.)
Canned vegetables and fruits
Canned or dry milk products (nonperishable)
Canned meats and nut products (tuna, chicken, peanut butter, etc.)
Meal helpers (Hamburger Helper, macaroni and cheese, ramen products)
Cereal, pancake and muffin mixes, baking mixes
Pasta, rice, spaghetti and other pasta sauces
Jellies, jams, fruit spreads
Paper products
Personal hygiene items (cleansing, dental, home health care or toiletries products)
Baby care products
Pet food cans and bags
Check donations (to either CAP Food Bank or Asotin County Food Bank or Palouse Cares)
If you need more information about the Food Drive, contact American Insurance Event Coordinator Stephanie Herbert at (208) 413-6242 or community [at] am-ins [dot] com.
Read more archives of our past food drives: