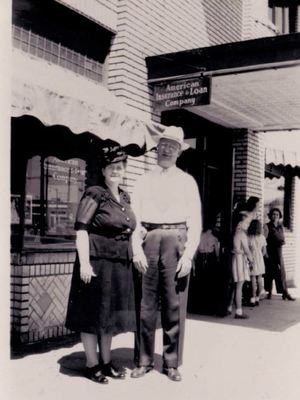 Our Agency was founded in 1922 and how the business came into the Sullivan family is the story of our agency "Pioneers", Harry and Blanche (Sullivan) Christy.
Harry W. Christy served in the artillery during the Great War (WWI). In 1919, after the war, he returned to the Stanwood schools in Iowa and continued as Superintendent until 1926. But, the big guns of WWI had made him nearly deaf which made teaching and administration of a school difficult. At the urging of a friend, Harry decided to leave his education career in Iowa to pursue new opportunities in the great Northwest. So, in 1926 with his wife, Blanche (Sullivan) Christy and two children, Roger and Harriet Ruth, the Christys headed out west for a business opportunity. With courage, hope and a pioneering spirit, they first came to Lewiston, ID.
Soon after arriving in Lewiston, Harry took a job opportunity in banking, in a then thriving Starbuck, Wash. (think Jimmy Stewart in the film classic, It's a Wonderful Life). Although successful, Harry still hadn't found what he really wanted until he heard through his banking connections two years later that American Bank & Trust Co. was selling their insurance and personal loan operation. Harry sold his interest in Bank of Starbuck and moved back to Lewiston to buy American Insurance & Loan Co. from O.M. Mackey on August 15, 1928.
Here, Harry and Blanche Christy staked their claim and worked side by side, building a successful insurance business and making personal loans. As the business grew they added staff and agents. They hired Blanche's nephew, Frank W. Sullivan, in 1946 following his return from service in WWII. Other agents hired were Dan Emery and Von Prideaux. Harry and Blanche retired in 1955 and sold the business to Frank "Sully" Sullivan, representing the second generation of Sullivan ownership. When asked about his success, Harry said that he turned his hearing loss into an asset as an insurance salesman because… "I couldn't hear the word 'no'!"
Related