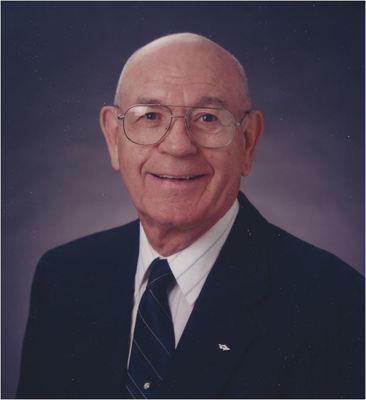 Frank W. "Sully" Sullivan
March 12, 1923 ~ August 12, 2013
The Sullivan family deeply appreciates the tremendous outpouring of kind comments, condolences, cards, letters and flowers. For friends and family that could not attend Sully's Celebration of Life we have provided an expanded obituary with pictures below and links to the following special memorial tributes.
Frank "Sully" Sullivan - A Life Remembered
Frank William "Sully" Sullivan (90) passed away peacefully on August 12, 2013, in Kennewick, WA, surrounded by his loving family. He survived active duty in two wars and as a prisoner of war to live a long and amazing life filled with personal achievement, business success and civic service. Here's what a remarkable life of hard work, service and sacrifice looks like!
Frank was born March 12, 1923 to John Orval and Metta Gladys (McEldowney) Sullivan on a farm near the town of Bloomfield in Davis County, Iowa. He was called "Buddy" when he grew up during the Great Depression as the 4th of 14 children (9 girls and 5 boys - 2 passed away in infancy).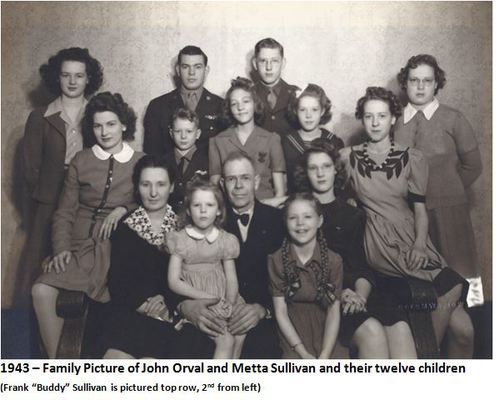 He was farmed-out through 8th grade to his grandparents, Frank L and Cora Belle (French) Sullivan on their farm, 10 miles south of Bloomfield. He walked a mile (up-hill both ways, he joked) to the one-room school house, the Brown School. He didn't live with his parents until he moved into the town of Bloomfield to attend high school. Buddy was outgoing and athletic. He loved all sports playing varsity football, basketball and baseball in high school, was a popular boy that was voted President of his Senior Class and worked at the local drug store after school.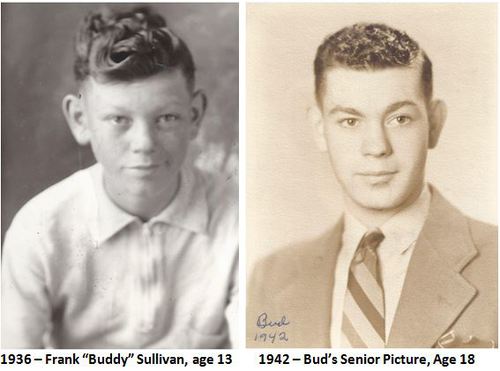 Frank is one from "The Greatest Generation" who graduated from high school in 1942. World War II had just begun so he enlisted in the Army Air Corps in May 1942. He became a Radio Operator and Gunner on a B-17 Bomber crew. While in the army he picked up the nickname "Sully" which stuck with him the rest of his life.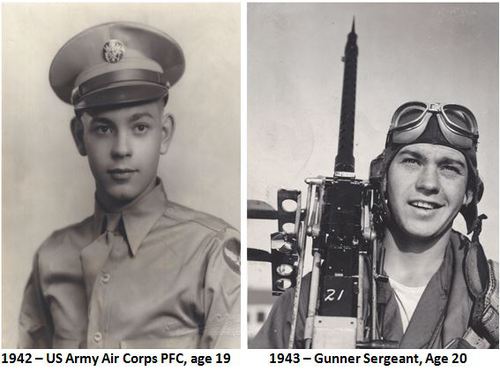 He met Betty Crawford in Dalhart, TX where he was a radio operator instructor in the Army Air Corps. They married on June 18, 1944 while he was stationed at Gulfport, MS just before he flew overseas to England with his B-17 Bomber crew. On his 15th mission flying bombing runs over Germany his plane was shot down and he was held as a P.O.W. until the end of the war. (Read Sully's POW story in THE RAT & THE WIND.)
After returning from WWII, Sully received an invitation from Harry W. Christy and his paternal aunt, Blanche (Sullivan) Christy to join their insurance business out west in Lewiston, Idaho. He joined AMERICAN INSURANCE in January 1946 where he helped build up the insurance agency over a 50 year career, becoming the owner and President until 1996. He and Betty had two sons, Harry C. Sullivan and John B. Sullivan. They divorced in 1964. Sully later married Edith "Dee" Tobin on July 17, 1965, in Lewiston and they were active in many community organizations.

While working as an insurance agent Sully continued to serve his country in the Idaho National Guard and was called back into service in 1951 for the Korean War with the 148th Field Artillery Unit. He served as a forward observer for the 3rd Infantry Division, 10th Field Artillery for a year in Korea and then spent the next year as the Assistant Intelligence Officer for the I Corp and briefed many officers on the front line of Korea. Sully stayed in the Idaho National Guard retiring as a Lieutenant Colonel in 1978. During his military service he received 2 Purple Hearts, 2 Bronze Stars, 2 Presidential Citations, and 5 Air Medals. Sully was awarded the special POW medal on September 9, 1989.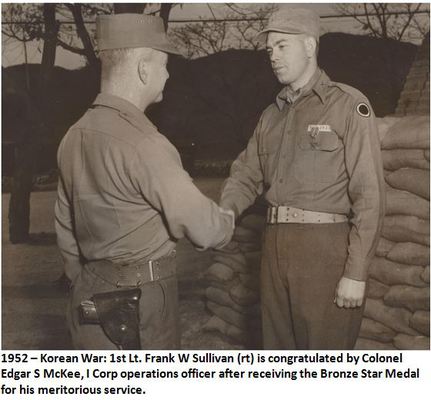 SULLY'S WORST BIRTHDAY - Read Sully's birthday letter home during the Korean War of how combat takes a heavy toll on a soldier's emotions and how fear can grip a heart as they face death; eventually conquering the fear enough to find some measure of bravery hiding deep inside.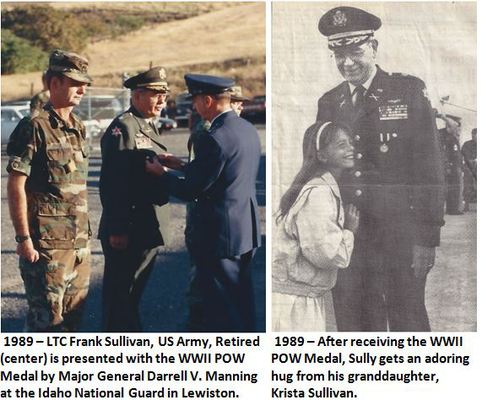 Sully and Betty divorced in 1964. He later married Edith "Dee" Tobin on July 17, 1965 in Lewiston and they were active in many community organizations together.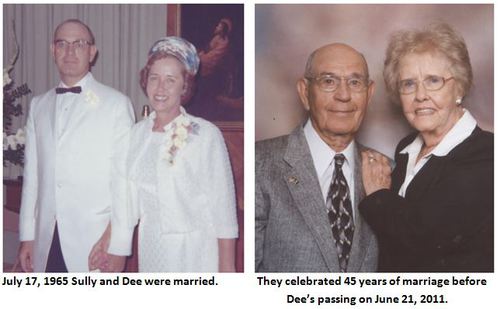 Sully excelled as an insurance agent and was a natural civic leader. He served and was past president of: The Junior Chamber of Commerce (JC's), the Chamber of Commerce, the Lewiston Boys Club, the local and Idaho State Independent Insurance Agents Assoc., the Idaho National Guard Assoc., The Community Chest (now United Way), the Lewiston Roundup Assoc, and the Lewiston Golf and Country Club. Sully was a lifetime member of: The Elks Lodge BPOE896, Masonic Lodge No. 10, Scottish Rite, York Rite, American Legion Post #13, VFW, DAV, Reserve Officers Assoc, Purple Heart Club, and the 40 & 8. Other honors include recipient of the Young Man of the Year Award in 1954 for the State of Idaho, the Key Stone Medallion of the National Boys Club, 1971 Potentate of the Calam Temple of the Shrine, and Who's Who in the USA in 1966.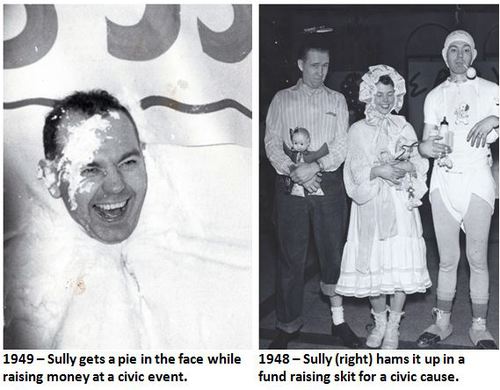 For 20 years Sully and Dee enjoyed their summer cabin on Coeur d'Alene Lake and later their second home in McCall, ID. They were "snowbirds" living in Sun City West, AZ during 12 winters. Then in 2000 they moved and lived year-round in Kennewick, WA to be close to both sides of the family. Dee passed away on June 21, 2011.

Where ever he lived Sully was everyone's friend! He won you over with kindness and entertained you by telling jokes or playing you a tune on his jaw harp or harmonica. If he saw your name in the paper you could count on receiving a personal note with a clipping and a joke.
He was preceded in death by his parents, John & Metta Sullivan, Edith (Dee) Sullivan, his wife of 46 years, and sisters Joy Swanson, Doris Whitacre, Alberta Collister and Ruth Jean Rayburn and brothers Robert, Johnny and Park Sullivan and daughter-in-law, Mary Beth Tobin.
Sully is survived by his sons, Harry C. Sullivan of Bellevue, WA, John B. Sullivan and wife, Pamela, of Lewiston, step-daughter Darlene Mowery and husband, Barry, of Benton City, WA and step-son, Lynn Tobin, of Lewiston, ID; sisters, Kathryn Johnson and Mary Fulkerson, of Newton, IA, Nancy Gee of Ottumwa, IA, Eunice Taylor of Mesa, AZ, Judy McMaines and husband, Charles, of Mesa, AZ, and brother, Harry W Sullivan, of Murphreesboro, TN; 9 grandchildren and numerous great grandchildren, step-grandchildren, nieces and nephews.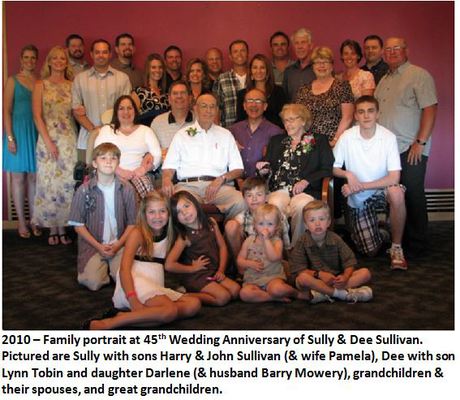 Services were held in both Kennewick, WA and Lewiston, ID.
The Kennewick service on September 3, 2013 was held at Mueller's Tri-Cities Funeral Home.The service was officiated by Art King, Chaplain of VFW Post 5785. There was a special military display for the fallen soldier, a framed display of Sully's military medals and ribbons, and various pictures and military memorabilia. Sully's sons, Harry and John shared some stories, fun jokes and memories of their dad. Masonic Rites were conducted. About 80 friends and family attended including representation from Sully's Kiwanis Club and the Calam Shrine.
The Lewiston services were held on Saturday, September 7th. Pastor Brad Bramlet officiated. The graveside service was at 10:30AM at the Normal Hill Cemetery to commit Sully's beautiful urn, a mosaic rendering of the American flag, to it's final resting place . The service included Masonic Rites and Military Honors with three gun volleys, taps and the folding and presentation of the American Flag to the family.
Lunch was hosted at the Lewiston Elks Lodge at 12 pm followed by the Celebration of Life at 1 pm. Pastor Bramlet shared his own story of being mentored and encouraged by Sully when he was the Executive Director of the Boys & Girls Club. While he read Sully's obituary he highlighted Sully's unique and wonderful ability to have an extraordinary number of life-long friends, provide civic leadership, serve his country with honor, and build a successful insurance business. He noted Sully had a perfect mixture of a gregarious personality and a disciplined life. A video slideshow was shown with pictures of Sully throughout his life showing his family fun, military service, civic involvement, business achievements, and leisure activities. Next John Sullivan got laughs by sharing a joke his dad told him years ago that represented how Sully seemed to know everyone. Harry Sullivan shared how his dad was motivated by the many positive attributes of comradery to serve and lead in the military, civic organizations and business. Finally, funny memories about Sully from letters and stories were shared for the amusement of all.
The Sullivan family appreciate the many memorials to honor Sully that were sent to the Shriners Hospitals For Children at 911 West 5th, PO Box 2472, Spokane, WA 99210-2472 and the Lewis Clark Valley Boys & Girls Clubs, 1021 Burrell, Lewiston, ID 83501.