We printed this Q&A column in the March 10, 2017 edition of The Lewiston Tribune.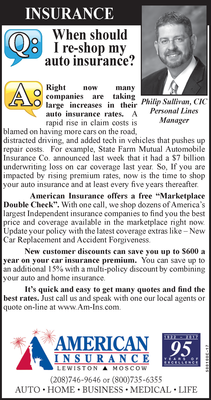 A: Right now many companies are taking large increases in their auto insurance rates. A rapid rise in claim costs is blamed on having more cars on the road, distracted driving, and added tech in vehicles that pushes up repair costs. For example, State Farm Mutual Automobile Insurance Co. announced last week that it had a $7 billion underwriting loss on car coverage last year. So, If you are impacted by rising premium rates, now is the time to shop your auto insurance and at least every five years thereafter.

American Insurance offers a free "Marketplace Double Check". With one call, we shop dozens of America's largest Independent insurance companies to find you the best price and coverage available in the marketplace right now. Update your policy with the latest coverage extras like – New Car Replacement and Accident Forgiveness.
New customer discounts can save you up to $600 a year on your car insurance premium. You can save up to an additional 15% with a multi-policy discount by combining your auto and home insurance.
It's quick and easy to get many quotes and find the best rates. Just call us at (208) 746-9646 or contact us online here or quote online here.
Read more about our Marketplace Double Check here or find more of our Q&A columns published in the Tribune here.