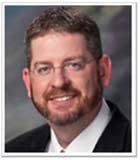 We printed this Q&A column in the Feb. 10, 2019 edition of The Lewiston Tribune.

Q:&A: When should I re-shop my auto insurance?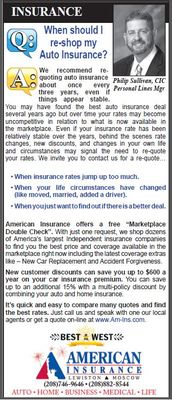 A: We recommend re-quoting auto insurance about once every three years, even if things appear stable. You may have found the best auto insurance deal several years ago but over time your rates may become uncompetitive in relation to what is now available in the marketplace. Even if your insurance rate has been relatively stable over the years, behind the scenes rate changes, new discounts, and changes in your own life and circumstances may signal the need to re-quote your rates. We invite you to contact us for a re-quote…
When insurance rates jump up too much.
When your life circumstances have changed (like moved, married, added a driver).

When you just want to find out if there is a better deal.
American Insurance offers a free "Marketplace Double Check". With just one request, we shop dozens of America's largest Independent insurance companies to find you the best price and coverage available in the marketplace right now including the latest coverage extras like – New Car Replacement and Accident Forgiveness.

New customer discounts can save you up to $600 a year on your car insurance premium. You can save up to an additional 15% with a multi-policy discount by combining your auto and home insurance.

It's quick and easy to get many quotes and find the best rates. Just call us and speak with one our local agents or get a quote online here.