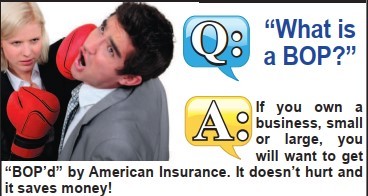 We printed this Q&A column in the March 10, 2020 edition of The Lewiston Tribune.

Q: What is a BOP?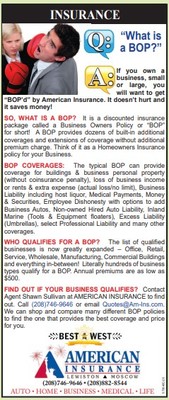 A: If you own a business, small or large, you will want to get "BOP'd" by American Insurance. It doesn't hurt and it saves money!
SO, WHAT IS A BOP?
It is a discounted insurance package called a Business Owners Policy or "BOP" for short! A BOP provides dozens of built-in additional coverages and extensions of coverage without additional premium charge. Think of it as a Homeowners Insurance policy for your Business.
BOP COVERAGES
The typical BOP can provide coverage for buildings & business personal property (without coinsurance penalty), loss of business income or rents & extra expense (actual loss/no limit), Business Liability including host liquor, Medical Payments, Money & Securities, Employee Dishonesty with options to add Business Autos, Non-owned Hired Auto Liability, Inland Marine (Tools & Equipment floaters), Excess Liability (Umbrellas), select Professional Liability and many other coverages.
WHO QUALIFIES FOR A BOP?
The list of qualified businesses is now greatly expanded – Office, Retail, Service, Wholesale, Manufacturing, Commercial Buildings and everything in-between! Literally hundreds of business types qualify for a BOP. Annual premiums are as low as $500.
FIND OUT IF YOUR BUSINESS QUALIFIES.
Contact your Agent at AMERICAN INSURANCE to find out if your business qualifies for a BOP. Call (208)746-9646 or email Quotes [at] Am-Ins [dot] com. We can shop and compare many different BOP policies to find the one that provides the best coverage and price for you.
You can read more of our Q&A columns published in the Tribune here.
More articles related to…