We printed this Q&A column in the Aug. 10, 2020 edition of The Lewiston Tribune.
Q: What is Classic Car Insurance?
A: Classic cars aren't just antiques, they also include restored cars, street rods, low riders, exotic, and replica cars. I fell in love with my first car, a 1965 Ford Mustang Fastback, and still have it. It's a classic and qualifies for Classic Insurance at very low rates with the special coverage I need. If you are holding onto a collectable vehicle that is at least 20 years old and not used as a daily driver it may qualify for better coverage at a lower premium.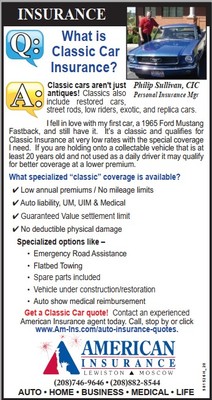 What specialized "classic" coverage is available?
Low annual premiums / No mileage limits
Auto liability, UM, UIM & Medical
Guaranteed Value settlement limit
No deductible physical damage
Specialized options like –

Emergency Road Assistance
Flatbed Towing
Spare parts included
Vehicle under construction/restoration
Auto show medical reimbursement
Get a Classic Car quote! Contact an experienced American Insurance agent today. Call, stop by or visit online auto insurance quotes here click find online auto insurance quote options here..