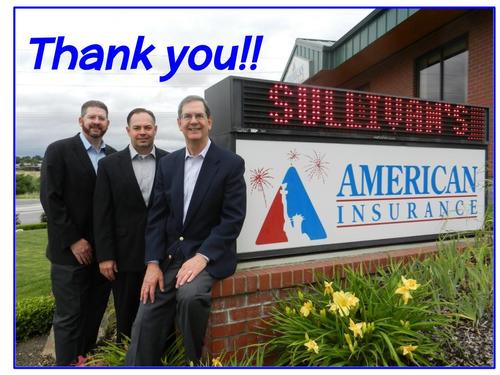 To our new insured:
First and foremost, the Sullivans and staff want to say a sincere "thank you" for choosing American Insurance to protect what you value most. We appreciate your trust and will deliver to you superior insurance coverage at the lowest marketplace price, backed by service that is prompt, accurate and caring.
Welcome! Look inside your mailed folder to find some free gift items, resources and reference information – everything you need to know to make insurance easy!
For future reference, here is an outline of what you can find inside your folder....
Policy File Folder – Use this handy file folder to organize your insurance policies, renewal declarations pages, and billings.
2019 Calendar – Find our free gift calendar inside to thank you for your business!
Our Agency – We provide unique services giving you the "American Advantage". Learn more about who we are and what we do that benefits you.
Communications – Our relationship is built on 2-way communication. Learn how easy it is to stay in touch with us and how we communicate with you.
Community Ties – Learn how we support our local communities and how you can partner with us to make a difference.
Customer Service – You have been assigned a specific local Customer Service Agent (or CSA) to help you. Find their contact information in person, by phone, email, or text for any insurance need.
Online Resources – Get 24/7 service, free resources, FAQ answers, and important insurance news all at your fingertips.
Referrals & Reviews – Gift cards for you! Refer your family, friends and coworkers to us. Review our service, tell us how we are doing and read reviews from our other customers.
Thank you again! We appreciate your business. If you have any questions, please contact me or your personal CSA who will be more than happy to assist you.
Shawn D. Sullivan, CIC President & Agency Manager