Every business owner, at some point, needs to understand when to provide proof that they are currently insured or ask for proof of insurance from someone with whom they have a business relationship. Most typically those relationships are either statutory, like auto liability requirements or contractual, like loans with lenders, lease contracts or contracts for services provided by your business.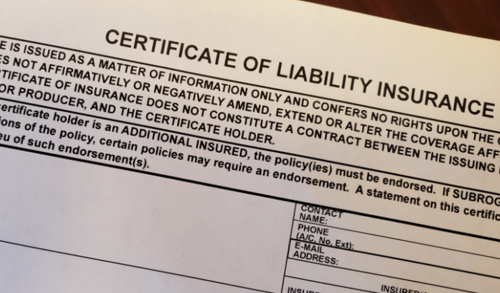 What are Certificates of Insurance?
Certificates of Insurance (COI) are standardized insurance forms issued by the insurance company or their agent that briefly describe an insurance policy's coverage and limits in order to provide evidence of insurance to a third party on behalf of the Named Insured. There are two basic types – Certificates of Liability Insurance (for the liability of premises, operations and complete operations) and Property Insurance Certificates (for real and business personal property and vehicles), but a COI can list any number of insurance coverage forms and limits insured under multiple policies.
For practical reasons, a COI is provided as a short form to communicate basic information about the actual insurance policy coverage documents that could be 300 or 400 pages long. That's why a COI is informational only. Certificate holders should be aware that a COI is not the insurance policy and confers no rights to the certificate holder. The COI itself does not change, amend or extend any coverage provided by the actual policy. And, a COI only tells the certificate holder that the coverage and limits described were effective on the date it was issued, not for the entire policy term. That means, the Named Insured could change coverage or even cancel the policy after the COI was issued. There is no legal requirement that the insurance company or their agent must immediately notify a certificate holder if the policy is changed or cancelled.
How to request a Certificates of Insurance?
You must request a Certificate of Insurance from your insurance agent or if direct, the insurance company issuing your policy. There is generally no extra premium charge for Certificates issued by admitted insurers but specialty or brokerage policies may charge a fee for certificates.
Get answers to these other important questions about Certificates of Insurance:
American Insurance routinely receives requests from our business clients to issue Certificates of Insurance. We handle each request as a priority and complete "Proof Only" requests within four (4) business hours. Our agents will review the insurance requirements in our client's contract and provide advice as to the basic compliance of the current insurance policy and limits.
You are invited to Contact Us or call your American Insurance agent at (208) 746-9646 or at (208) 882-8544 or text us at (208) 518-0823 for more information about Certificates of Insurance.
Find more related articles about:
Find more articles about certificates here.