One area of risk business owners may not see coming is when someone who provides you services or with whom you have a business relationship causes a bodily injury or property damage claim but does not have primary insurance coverage to respond to the claim…leaving you embroiled in the claim and lawsuit.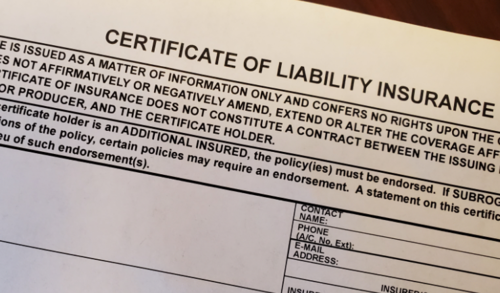 Business owners need to constantly be on guard to reduce their property and liability risk. One of the best ways to lower your risk is to regularly ask AND receive a Certificate of Insurance (COI) from any independent contractor who provides you services (like janitorial, repair or service contractors or construction) to prove they have liability and/or workers compensation insurance.
Larger, more established service/contractor providers are more likely to be insured but the smaller ones or one-person contractors may not maintain the coverage or limits needed.
CASES IN POINT
You hire a janitorial service that is an independent contractor for your business premises. The janitor is mopping your floor and a visitor slips and falls, breaking a hip. The injured party demands $250,000 for medical bills, lost wages, and permanent physical injury. Then you find out the janitorial service does not have liability insurance. As the property owner you must make a claim under your own Commercial General Liability insurance to defend and pay the claim. You can't recover your loss from the janitorial services because it doesn't have the financial resources to do so.
You hire a building contractor that hires independent sub-contractors to do work on the project. One sub-contractor is a self-employed one-man painter who brings a day worker to the project who falls off the scaffolding and breaks his back. The worker claims workers compensation as an employee but the painter doesn't have workers compensation insurance. The building contractor (and possibly the property owner) becomes embroiled in the claim under his own workers compensation policy.
These types of claims are common and repeated over and over again for work done by various vendors, contractors and lessees.
Request and receive a Certificate of Insurance
General contractors do this routinely, but every business owner needs to establish the practice of asking for, receiving, documenting and monitoring certificates of insurance as proof of liability and workers compensation insurance from any vendor, contractor or lessee who does work on your premises or works elsewhere at your direction. DO NOT allow work on your premises or for your operations until you receive the certificates you requested.
If you have a written contract with your service provider it should contain insurance requirements in favor of your business as to coverage and limits required that are verified with a COI. It also may contain other requirements like adding an Additional Insured, Primary and Non-Contributory limits, Waiver of Subrogation and others. Consult your American Insurance agent for any appropriate additional protections you may want to consider.

Certificate of Insurance Request Form
To assist you in establishing a Certificate of Insurance program, contact us at AMERICAN INSURANCE. We have a customizable "Certificate of Insurance Request" that can be used to request a COI from others. You are also invited to Request Quotes for your business insurance. We quote many top insurance companies with your one request to find you the best price and coverage available in the marketplace today.
Find more related articles
CERTIFICATES OF INSURANCE - Explained
Risk Management:
Business Auto
Claims
General
Loss Control
Safety