Here are some of our recent newsletters! Find older archives, listed below.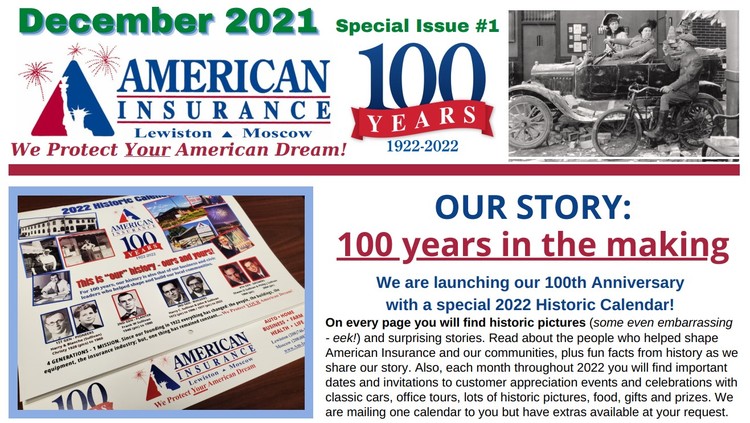 2021 WINTER NEWSLETTER 100 YEAR SPECIAL ISSUE #1 - Read about ...
100th Year Historic Calendar!
Our story: 100 years in the making
History Mysteries Quiz -- Get a prize!
Founder: OM Mackey -- How it all began!
Pioneers: Harry & Blanche Sullivan Christy
Betty Reimler Knopes: Working for the Christys in 1948

2021 SUMMER NEWSLETTER - Read about ...
Fireworks ahead!

COVID in retreat - with some chaos

Washington rates are changing

Agency sponsored baseball teams

Construction costs and insurance rates

Interlink is moving to a new office

99 years - we want your stories!!

2021 SPRING NEWSLETTER(opens in a new tab) - Read about ...
A refreshing look ahead! 100th Anniversary coming in 2022.
Customer Service Reviews
Car titles for personal auto coverage
Free Document Shredding Event April 12-16
Carmen Johnson honored with 20 year service award
Small Businesses hit with email scams
We insure fun!
Health exchanges extend open enrollment
More archived newsletters